NTC orders shutdown of ABS-CBN subsidiary Sky Cable, TV Plus channels
MANILA, Philippines — The National Telecommunications Commission (NTC) on Tuesday (June 30) hit media giant ABS-CBN Corp. with another big blow after it issued another cease and desist order to shutdown the station's subsidiary channels. 
The orders signed by NTC Commissioner Gamaliel Cordoba covered the operation of Sky Cable and the network's other channels on TVPlus.
The regulatory body argued that the other platforms should also be closed because these were also covered by the CDO the agency issued on May 5.
Aside from the shutdown, the NTC also gave Sky Cable 10 days to explain why the radio frequencies assigned to it should not be recalled for lack of franchise. 
"Upon the expiration of RA (Republic Act) 7969, Sky Cable Corporation no longer has a valid and subsisting congressional franchise to install, operate or maintain a Direct Broadcast Satellite (DBS) Service," the order read.
Likewise, the NTC ordered the network to refund its subscribers "those amounts representing unconsumed prepaid loads, deposits on subscriber equipment and devices, deposit or advance payment in monthly charges for postpaid subscribers, if any, charges collected from new applicants for DBS service, and other charges collected."
In a statement, Sky Cable said it will comply with the NTC order.
"Sky Cable Corporation complies with the cease and desist order (CDO) issued by the National Telecommunications Commission (NTC) stopping the company from operating its direct broadcast satellite service immediately," the firm said in a statement.
"We will refund all unconsumed prepaid loads and advance postpaid payments. We appeal to our SKYdirect subscribers and partners for understanding and patience as we undergo this process," it added.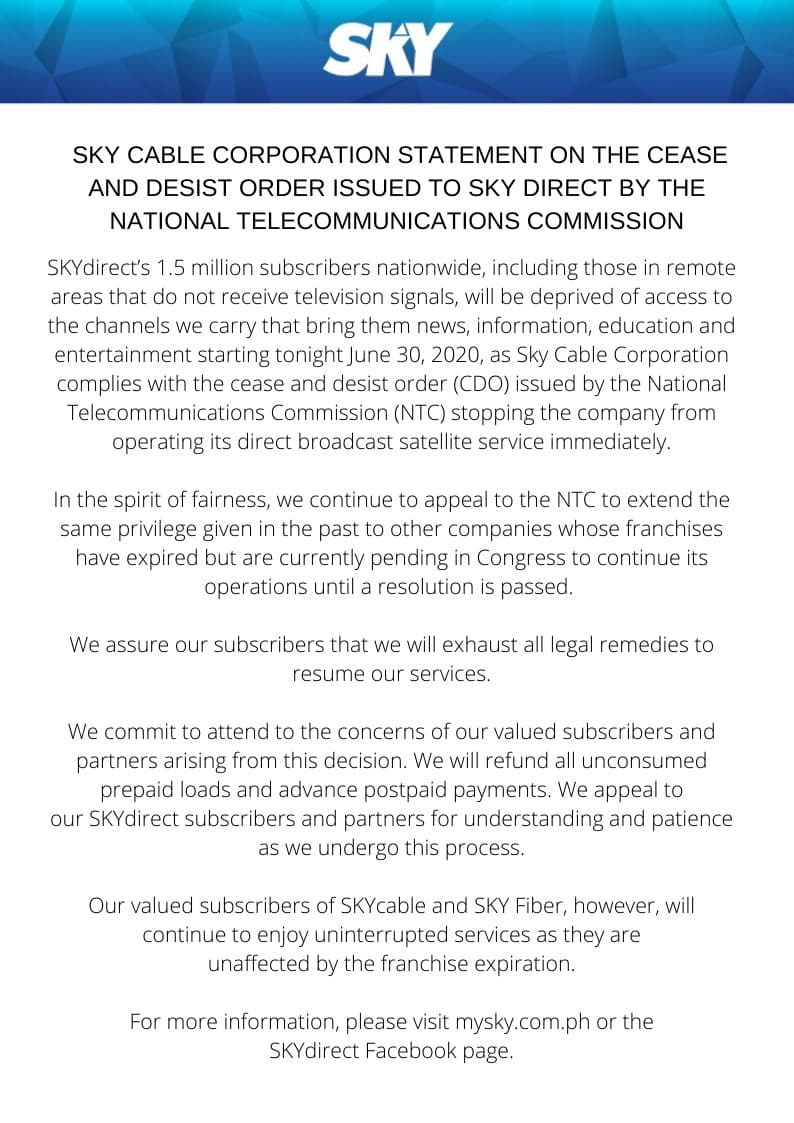 While ABS-CBN argued that there was no mention of Channel 43 in the May 5 shutdown order, the network immediately stopped its digital TV transmission in Metro Manila using the said channel in compliance with the alias CDO recently issued by the NTC.
"While channel 43 is not mentioned in NTC's cease and desist order (CDO) of May 5, 2020, and it is ABS-CBN's informed understanding that channel 43 is not included in the CDO, digital TV transmission in Metro Manila using channel 43 will cease tonight (June 30), consistent with the intent of the alias CDO," ABS-CBN said.
This means operations of digital channels Teleradyo, Jeepney TV, Yey!, Asianovela Channel, CineMo and KBO will also cease.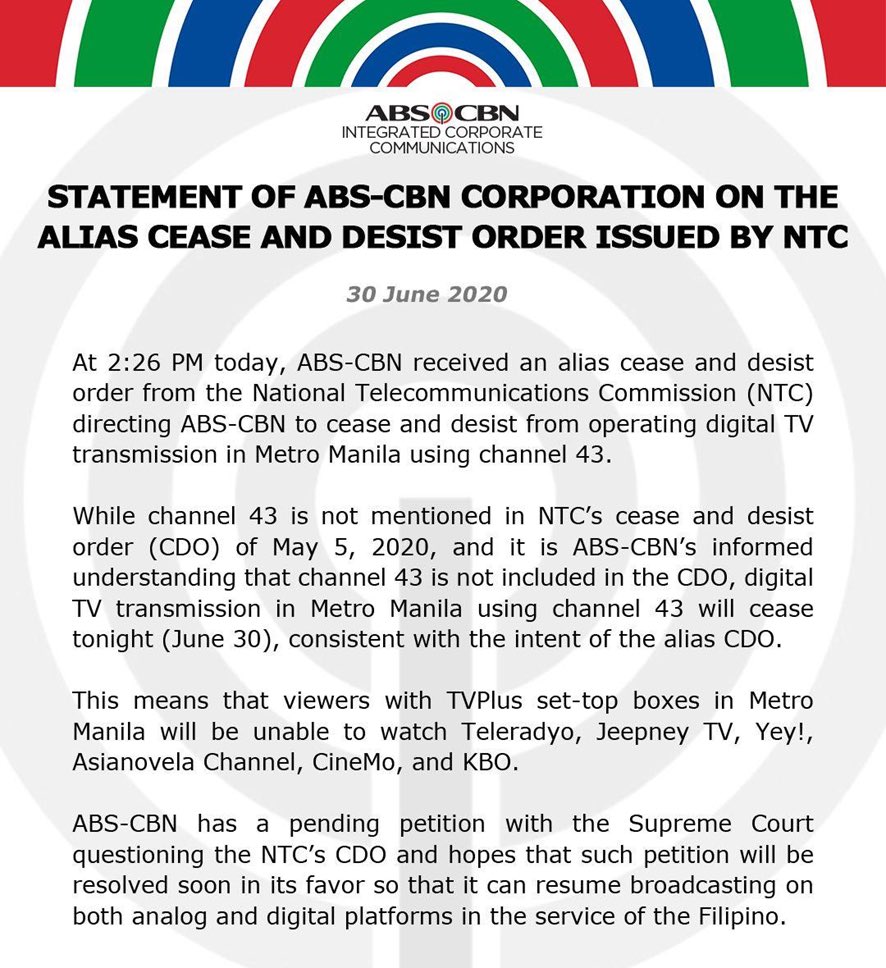 For now, ABS-CBN awaits the Supreme Court's decision on a petition it filed against the NTC's cease and desist order. MNP (with inputs from Vincent Arboleda)