Mavericks retiring No. 24 in honor of Kobe Bryant
Dallas Mavericks owner Mark Cuban announced that his team is taking number 24 out of its list of jersey numbers as a tribute to NBA legend and icon Kobe Bryant.
Bryant never played for the Mavericks but Cuban's reason for his decision to strike number 24 from his team's jersey numbers was Bryant's significant impact on the game of basketball.
"Kobe was an ambassador for our game, a decorated legend and a global icon. Above all, he was a loving and dedicated father," Cuban wrote in a statement on Twitter.
"Kobe's legacy transcends basketball, and our organization has decided that the number 24 will never again be worn by a Dallas Maverick," he added.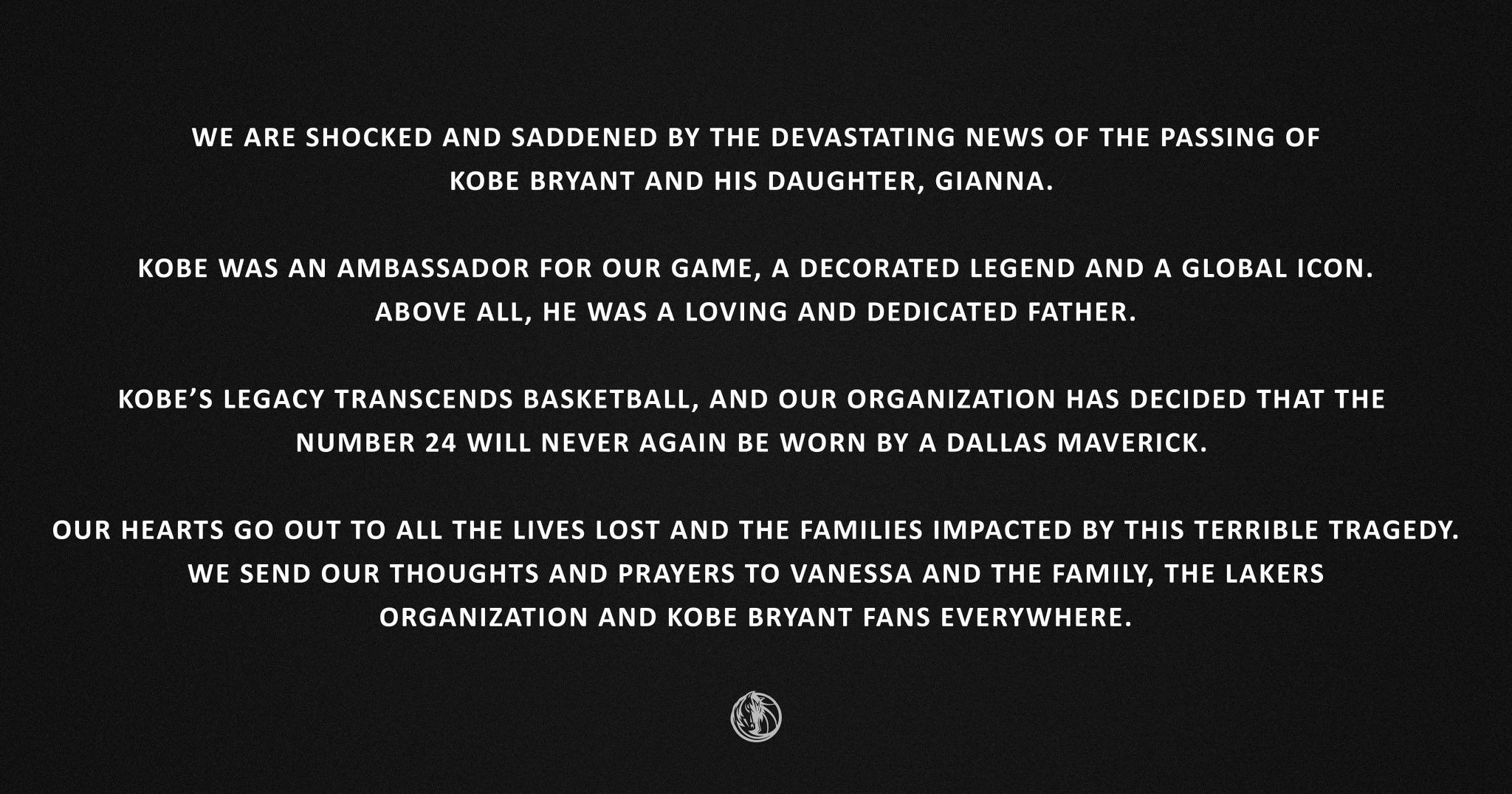 Bryant, along with his daughter Gianna, was on his way to a travel basketball game the helicopter they were on crashed Sunday morning (January 27) near Calabasas, California.
In honor of his death, teams in the NBA deliberately took 24-second shot clock and eight-second violations before they start the game as tribute to the NBA icon.
Bryant began his NBA career in 1996 with number 8 and made significant records for LA Lakers until he decided to change to 24 from 2006 until his retirement in 2016.
Born Kobe Bean Bryant on August 23, 1978, he was considered one of the greatest NBA players of his generation, spending all his 20-year basketball career exclusively to Los Angeles Lakers.
His scores in both of his numbers are equally notable.
Bryant had 16,777 points as Jersey #8 with three title wins and eight All-Star appearances.
Meanwhile, he had 16,866 points as Jersey #24 with two more title wins and 10 All-Star Games appearances.
Likewise, he was hailed as NBA's scoring champion while wearing each of his numbers.
The success of each stage of his career justifies Lakers decision to retire not just one of Bryant's numbers.
Thus, Bryant will be the first player in the NBA history to have two different numbers retired by the same team – 8 and 24.